Meridian, Idaho Camping World
Let me preface by saying that our first Camping World experience wasn't terrible. In Meridian, Idaho the purchase was pleasant. We're from Colorado, but my husband was working in Idaho. While there we decided to experiment with our first RV. We bought a 2012 Keystone Cougar 278RKS. Our salesman, Brian, was patient and attentive. We made our deal without a hitch. We had that unit for one year and the only thing that ever broke was the toilet. Just wear and tear.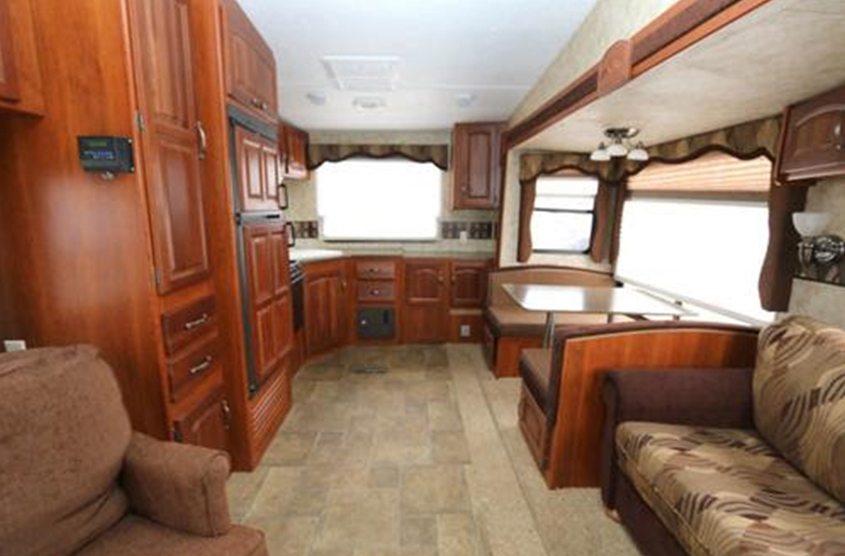 They offered us the extended warranty, but they did not shove it down our throats. We did buy the warranty, at a reasonable price, and a GAP plan because it was a used unit. These purchases didn't turn into a problem until we sold the used RV and requested a prorated refund. More about that in the Camping World corporate post.
Monticello, Minnesota Camping World
We decided to upgrade. We've learned that vehicle negotiations are always better deals up north near the holidays. So, since we happened to be in Minnesota for a job, the timing was perfect.
The Search
As it was in Idaho, the saleswoman, Jackie, was wonderful. We had a list of must-haves and a few "it would be nice" items. In our search, we visited several times. She showed us every unit we requested with patience. She never acted like we were wasting her time. Once when she had a day off, they stuck us with a salesman who did treat us like a nuisance. I can't remember his name.
After researching and comparing we decided on another Keystone. The manufacturer is another sad story. Later.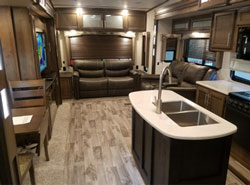 We didn't want to buy new because of depreciation, but it was the only fifth wheel with everything on our list. A 2018 Keystone Cougar 338RLK won the day.
After deciding on the unit, we sat down with Jackie and the finance manager. Jackie was her usual, friendly self. The finance manager was also pleasant. We assumed we would be dealing with him throughout the process. However, that was not the case.
The Camping World Purchase
After agreeing on a price and a few terms, like keeping our mattress, the deal was made. Another stipulation was that they fix the island. Upon inspection, it was quite obviously dropped during installation. The bottom and sides were cracked. Several places had been painted over to hide the damage. The manager agreed to fix the damage to our satisfaction or replace the island completely.
A few days later we came in with our 2012 trade-in to pick up our new unit. My husband believes that the RV at final inspection was not the exact unit we'd chosen. I believe he's right, but I didn't care. The island was not damaged in this one, and it was the same model. After inspecting our new unit, we waited around for quite a while to sign papers.
The Closing Nightmare
After an exhausting day, we finally sat down with a finance specialist to sign the papers. It was a different man, not the manager. We were escorted to an office at the back of the store. At first, this finance guy seemed friendly. It didn't take long to realize we were in the presence of a high-pressure badger.
To begin, he slapped down a few sheets of paper on his desk with some calculations. With no mention of the total dollar amounts, he focused only on monthly payments.
First, he showed us the monthly payment for the price we had agreed to, listing the APR we had been offered. Next, there were some taxes listed. After that was the payment for a three-year, extended warranty. We declined the warranty and he said he'd have to recalculate. He took his papers with him. Upon his return, he had a new deal that the bank "just" offered us contingent upon accepting the extended warranty. Again, we declined the warranty. He stepped back out, taking his papers with him.
Let me state here, negotiations began at 6:00 p.m. in Minnesota on a Saturday night. The bank that financed us is in Maryland. It was 7:00 p.m. on the east coast. There was no one at the bank on Saturday night, so that was a blatant, repeated lie.
The Badgering
During the next approximately 90 minutes he used words like "value" and "security," but never cost. After about 45 minutes, on one of his fictitious calls to the bank, I walked out to regain my composure. Our saleswoman was still around. I mentioned that I was about to punch this guy. She went to find him to tell him to stop chasing away her sale, to no avail. He would not give up on the extended warranty we had repeatedly refused.
At about the one-hour mark in our Camping World purchase experience, he rose to go "call the bank" again. This time, I quickly grabbed his calculations from the desk. He stopped dead in his tracks, not happy that I had his notes. I smiled and said, "I just want to crunch some numbers."
Slowly he left the room. Using the calculator on my phone I made a startling discovery. The three-year extended warranty would cost $16,000 (yes, sixteen thousand).
In other words, we would be paying for the warranty for the 10-year life of the loan. Seven years of payments after the warranty expired. Value? After this ordeal, I got a quote for $29 per month for 72 months from the exact same company. Total: $2,088 for six years! Check actual prices here.

The badger returned to the room with a much less friendly demeanor. He had another paper with a new deal, still including the extended warranty. He was less enthusiastic when he presented his latest scam attempt. I stood up, leaned over the desk, took his pen, and proceeded to scrape the extended warranty line off his paper. I pointed to the unit's monthly price and said, "We want this. That's it! We want the deal we agreed to now or we walk."
Finally, the Closing
He grabbed the ripped paper from his desk and stormed out. Upon his return, he slapped a form on the desk in front of my husband and said, "Sign it." My husband asked, "What am I signing?" He said, "The deal you wanted." My husband read the paper and it was not our deal. The numbers listed were at a higher interest rate for fewer years than requested. My husband pushed the paper back to him, "That's not our deal." Without a word he took the sheet and stomped back out.
We discussed walking out, again. If he had not come in with our deal, we would have been gone. The negotiations were complete days earlier in our eyes. Above all, this visit should have entailed just signing our agreement and driving off.
In the end, our end, he finally came back with the deal we'd made days earlier. We read every word before signing. He calmed down after a few minutes and apologized. "I just love my job," he added. In other words, "You love ripping people off?" I asked. He shrugged.
So, at almost 8:00 p.m. our Camping World purchase was complete. Now we had to move our remaining belongings over to the new unit. We had to ask our poor, tired saleswoman to track down the only remaining service tech to help swap the mattresses. In the end, this was an ordeal we will never forget or repeat.
My next post covers contacting Camping World corporate to share our experience.