To better understand our Camping World inspection experience, read Camping World Purchase, the first in this series. Next is our contact story, Camping World Corporate.
Undaunted by the axle fiasco, our next trip was to Florida. We arrived there in July. We parked and set up. Next, my husband said he was going to check the roof, just to be prudent. Tired and hungry we were planning to get some dinner and go to sleep.
The Nightmare Begins
After walking the roof he descended. Instead of going to eat, we were heading to Home Depot. The front of the roof, behind the nose cap, had snapped back causing several open holes.
I felt like I'd been hit by a truck!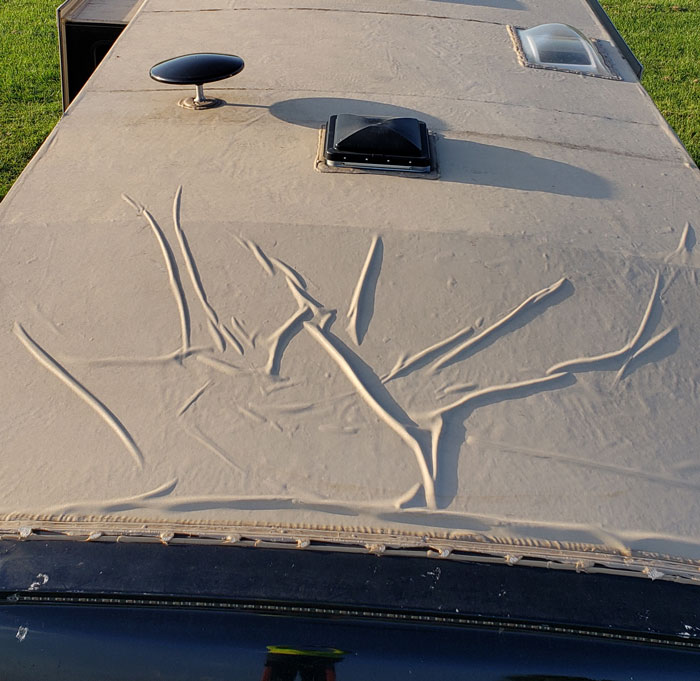 The fight for our labor reimbursement for the axle had just ended in our favor. Above all else, I knew this would be another fight. We headed to the store and came right back to tarp the roof. Little did we know we'd be tarped, and stuck, for four months. Although we stayed in the RV, it was not travel-worthy.
On our model and several others, Keystone advertises a "one-piece, rubber roof." In other words, the roof is seamless, preventing leaks. My husband concluded, and technicians confirmed, that the rubber was cut too short. Evidentally, the roof should have been replaced at the factory. Instead, they stretched the rubber and shoved it under the nose cap. After a few months, the rubber snapped back like a rubber band. Ergo, a gaping hole.
Camping World Again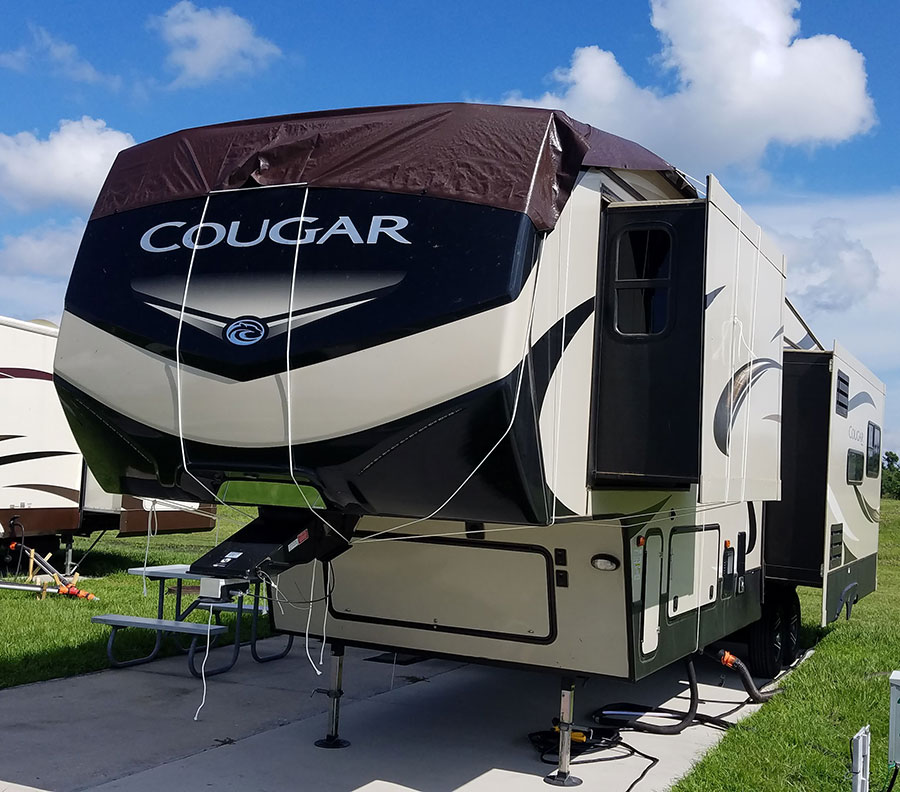 First, I called Camping World of Bartow, Florida. They told us to come in for an inspection. So, we scheduled it as soon as possible, about two weeks later. The day of the inspection we took down the tarps and drove to the store.
The Inspection
After about an hour the front desk person brought out a hand-written, yet official, Camping World inspection. She said their computers were down and that she would type it and send it to me asap. I asked to see what the technician had written. She hesitated, repeating that she'd type it up for us. I insisted and she gave me the papers.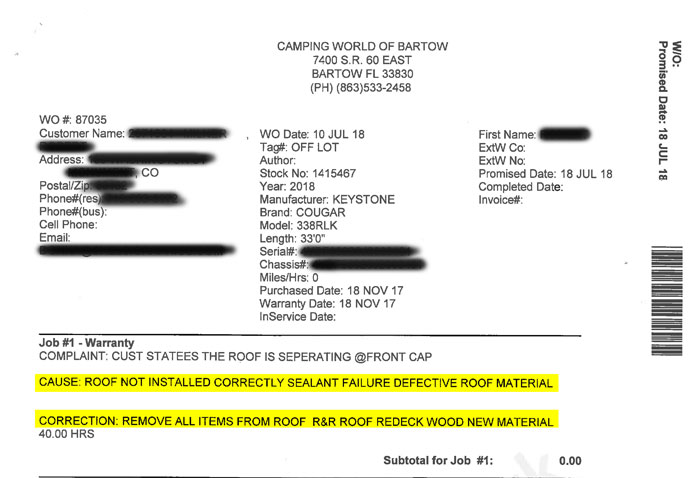 The technician wrote that the roof was "not installed correctly." Additionally, he wrote "defective roof material." Furthermore, the certified technician stated that the correction was to replace the roof.
I asked for copies and she refused. She said she had to type them up and then she would e-mail the inspection to me. I got out my phone and started making my own copies. I wanted the truth, out of the technician's mouth. Not a copy after Camping World put their spin on it. The girl wasn't happy. Obviously, I wasn't taking any chances.
The Paperwork
A few days later I got the e-mail with the typed inspection and it did match my copies. The e-mail stated that we had to sign the inspection before they would submit it to Keystone. Thankfully, I read every word of everything we sign. At the bottom of the page was an agreement.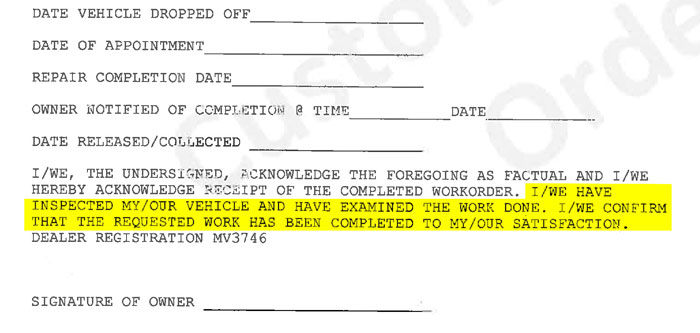 "I/We confirm that the requested work has been completed to my/our satisfaction."

Camping World
The unit hadn't been touched. No work was started, let alone completed. Consequently, I called Camping World and told my representative that we were not signing. After a moment of fumbling, she said that she had sent the wrong document. However, the work order listed "Warranty" work several times. She said she'd send the correct document in another e-mail.
The Second E-mail
At some time, I can't remember when she told me that they had already submitted the warranty request. However, they still needed a signature. I was assured that the second disclaimer just said that they were not responsible for damage, like if we left food in the refrigerator.
When I got the next e-mail, I was ready to read "every, single word." Thank God. This agreement did mention food in the refrigerator. In addition, the second inspection sent to us stated that:
"I do not wish to receive any further estimate, either written or oral, to which I may be entitled by law, before repairs are authorized."

Camping World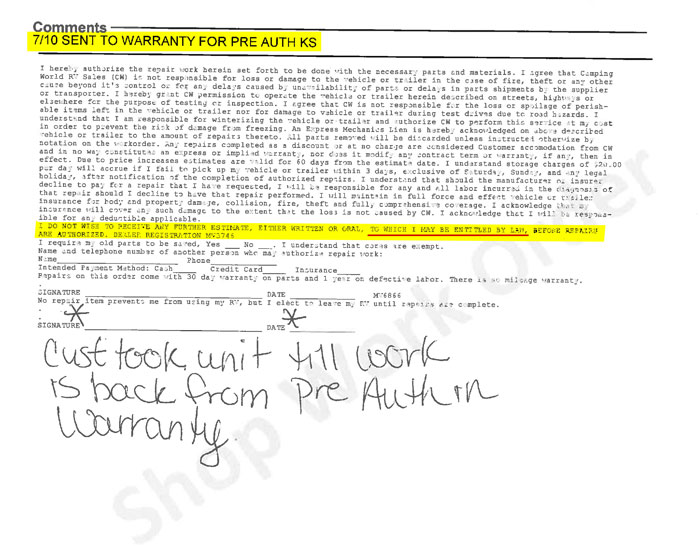 In other words, if Keystone says they won't cover the roof, no one has to notify us. Camping World would just do the work and when we pick it up they can hand us a bill for $10,000, or more. Without a doubt, it's happened to others.
Refusing to Sign
I called back and told her I was not signing away my rights. Consequently, her attitude changed. She put me on hold and when she returned to the phone her demeanor had completely changed. Similar to our financing experience she barked that if I didn't sign, they would not submit our request to Keystone. I reminded her that she had already submitted it. Then that story changed.
I told her we would not sign away our rights and hung up. A friend had given me the number to Keystone's Warranty Department. In the end, I thought the manufacturer would give us satisfaction. Thus began the next battle.
Read about our Keystone RV warranty experience. We share our warranty experience in detail, KeystoneRVsucks.net.
I encourage you to share your Camping World experiences here. Together we can warn others and, hopefully, cause change.