On Father's Day 2018, we needed our complimentary roadside assistance. While headed home to Colorado we had a scare. We'd spent the night in Santa Fe, New Mexico. We got an early start north. When we got on the expressway ramp smoke began to billow from the back axle.
We spent the next six hours on the side of the road. I called Good Sam Roadside Assistance. One year of Roadside Assistance is included with any Camping World RV purchase. However, Good Sam had no record of our account. They only had a history of the account that had expired a year after we bought our first unit in Idaho.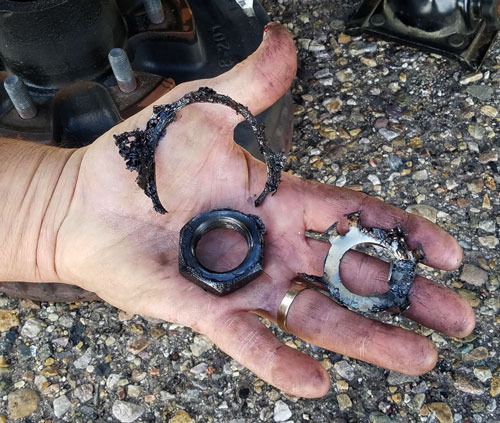 Meanwhile, we did find help from a Santa Fe mobile mechanic. First, we found out that the wheel bearings had deteriorated and destroyed one axle. As a result, the tire was coming off. Likewise, the bearings were also deteriorating on the other axle. In other words, any of the four tires were in danger of flying off at any time. Fortunately, they had yet to do damage to the second axle.
The Badger Strikes Again
Driving home on Monday, with our unit in Santa Fe for repairs, I called Good Sam. They confirmed that we were not registered and they "couldn't understand why." The representative told me to call the Minnesota dealership.
The Minneapolis Camping World confirmed that our one-year roadside assistance was never registered. The Camping World staffer was perplexed. I knew exactly what happened. We didn't bite at closing. Therefore, he didn't sign us up.
The staff member said, "Oh, he wouldn't do that." Ergo, more BS. Moreover, I demanded one year of Good Sam Roadside Assistance starting that day, which I got.
In conclusion to this episode, the finance guy was supposed to register us for a year of Roadside Assistance. He didn't. Just an oversight? I think not. In the end, I did get a full year of roadside.
The axle was warranty issue number one. That is to say, my next post, Camping World Inspection, will chronicle our ordeal when the roof fell apart. It happened just a month after the axle ordeal.
Read our Keystone Warranty story at KeystoneRVsucks.net.
Please share your own Camping World experiences here. Above all, through our stories, we can warn others and hope for a change in business practices.