My wife and I have planned for years that after retirement we would buy an RV and try full-timing. On Feb. 21, 2020, we bought a used 2008 Tiffin from the Gander RV St Augustine, Florida location.
Before spending this large amount of money we asked many questions. We went over everything and all of our issues were addressed. To be sure we did a thorough walkthrough we videotaped it. During the walkthrough, we found some issues and were assured that they would be taken care of before we picked up our new home. Every issue we found is on the tape with a recording of the employee telling us it would be taken care of.
Gander RV Tire Rot Deception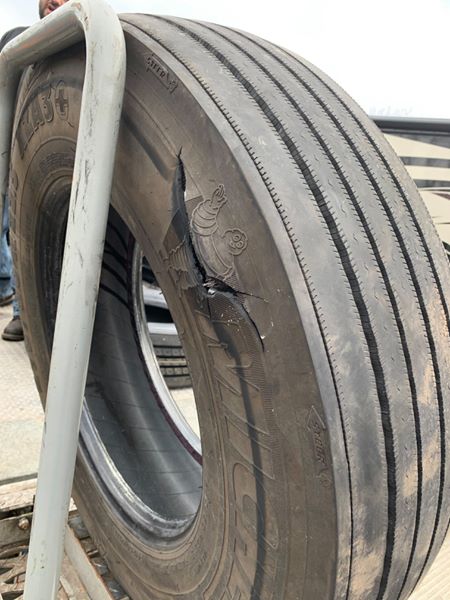 Gander scheduled a pick date and asked that we get there early. Ergo, we arrived at 9:00 am to find that nothing had been done to repair the issues from the walkthrough. After a long day, we left Gander at 5:30 pm with our unit. None of the repairs were done.

We headed home to Massachusettes, we had several problems arise. First, we had a blow out of one of their great tires. Road service charged $650 to replace one tire. With the tire removed it was apparent that the tires had been turned to hide the dry rot. Also, we lost an air pressure gauge.
Finally, we got home and parked the RV. It wouldn't restate. Again we had to call Road Service; a $250 mobile visit. They couldn't fix it. We had to have it towed to a service center, another $650.
Gander RV St. Augustine Liars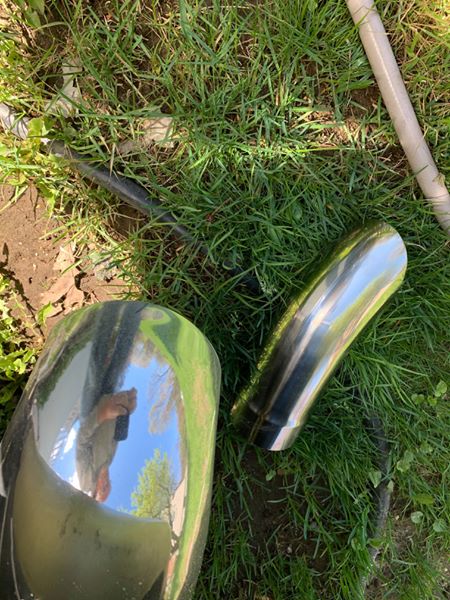 Next, on February 27th, we contacted Glenn Blake at Gander in St. Augustine and explained the issues. In addition, I reminded Glenn that their manager promised to fix an issue with the tailpipe. He told me to get it addressed and gave me his e-mail address. He told me to send him the invoice from our repair shop.

After the work was done I sent the invoice. The repairs included five new tires due to the dry rot and totaled $5,000. Now they refuse to pay for the repairs. Instead, they sent me a tailpipe with a letter.
Good Afternoon Mr. Brouillette,
I have looked at Tri-State's repair order and reviewed it with the General Sales Manager. Gander RV will cover the LOF in the amount of $405.25 and we will also cover the air gauge repair of $305.60. As a goodwill gesture, although we usually do not cover tires on pre-owned units, we will cover half of your replacement cost on your blowout at $370.00. The total reimbursement to you is $1080.85.
Also, I'm sending you the exhaust turndown as promised by the previous sales manager. This is the best we can do for you. I will have our Accounts Payable Department draw up a release and e-mail it to you. Sign and return this release so that I can request a check for you. Please be safe in your travels.
Thank you for your business.
Best regards, Glenn S. Blake, Service Director
glenn.blake@ganderoutdoors.com
Gander RV, 600 Outlet Mall Blvd., St. Augustine, FL 32084
(904) 486-9050 ext. 1244
CISCO#: 70561244
We received the agreement. Due to our shock, after reading it we asked several different managers repeatedly if anyone had read this agreement? The responses were the same, "this is what needs to be signed before we pay you."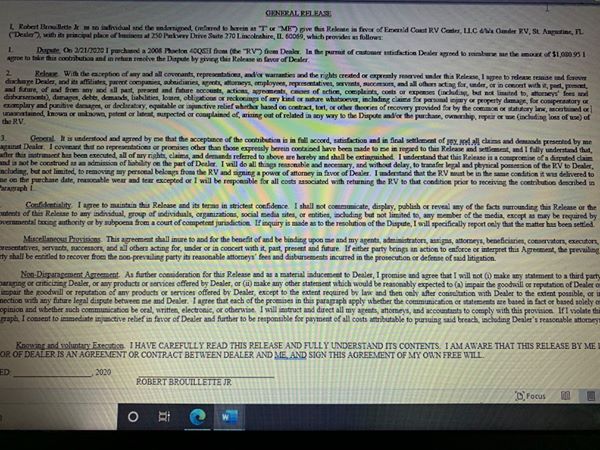 As you can see, this is what you have to expect when dealing with Gander RV St. Augustine, Florida (aka Camping World). If you don't have time to read the whole thing, just read this excerpt from what they wanted me to sign, especially the bold type.
Gander RV St. Augustine Release
3. General
It is understood and agreed by me that the acceptance of the contribution is in full accord, satisfaction, and in final settlement of any and all claims and demands presented by me against Dealer.
I covenant that no representations or promises other than those expressly herein contained have been made to me in regard to this Release and settlement, and I fully understand that, after this instrument has been executed, all of my rights, claims, and demands referred to above are hereby and shall be extinguished. I understand that this Release is a compromise of a disputed claim and is not be construed as an admission of liability on the part of Dealer. I will do all things reasonable and necessary, and without delay, to transfer legal and physical possession of the RV to Dealer, including, but not limited, to removing my personal belongings from the RV and signing a power of attorney in favor of Dealer. I understand that the RV must be in the same condition it was delivered to me on the purchase date, reasonable wear and tear excepted or I will be responsible for all costs associated with returning the RV to that condition prior to receiving the contribution described in Paragraph 1.

4. Confidentiality
I agree to maintain this Release and its terms in strictest confidence. I shall not communicate, display, publish or reveal any of the facts surrounding this Release or the contents of this Release to any individual, group of individuals, organizations, social media sites, or entities, including but not limited to, any member of the media, except as may be required by a governmental taxing authority or by subpoena from a court of competent jurisdiction. If inquiry is made as to the resolution of dispute, I will specifically report only that the matter has been settled.
Stay away from this place!
–Guest Poster
Gander RV Warnings
Camping World has taken on the name of Gander RV to cover their horrible reputation tracks. Due to our horrible experiences with two Camping World locations: Monticello, Minnesota, and Bartow, Florida. If you learn nothing else, DO NOT buy the extended warranty that they attempt to shove down the throat of every prospect at closing! Do your own research and do the math!
CampingWorldSucks.net welcomes contributors, click here. In addition, we recommend the Facebook group Camping World: The Awful Experience to share your experiences. Our goal is to warn consumers to avoid this company, by any name.
An option for complaints is Camping World corporate headquarters. Please report how that works out for you.
CampingWorldSucks.net is an informational website only. We do not allow advertising; no profit received.
KeystoneRVSucks.net
Similarly, check out KeystoneRVsucks.net. Camping World (aka Gander Mountain) is the largest retailer of Keystone RV. Just like Camping World, Keystone has built a reputation for terrible workmanship and equally awful customer service. You can read why we despise this company at keystonervsucks.net. To share experiences with Keystone RVs click to submit.
If your complaint involves a Keystone unit, e-mail customer service here. Please report your results. Positive experiences are unfortunately few and far between.
Keystone's parent company is Thor; customer support form and phone number, (877) 855-2867.