A friend of ours went to visit the Camping World liars in Bartow, Florida for a simple repair. While he was in the waiting room a CW employee came out with disturbing news.
The employee provided pictures proving that there were multiple, gaping holes in the roof. Camping World's liar said that the unit should be left and fixed that same day because of all the rain they experience during a Florida summer.
First of all, our friend, Joe, was alone at the dealership. Second, he is an older, heavy man. Joe is visibly out of shape and walks slow and labored because of his bad knees. Certainly, it would be obvious to anyone that he wasn't going to climb the RV ladder to the roof.
The service tech gave him an estimate of $16,000 for a roof replacement. Unfortunately, the owner didn't take copies of the estimate or the images. Obviously, the Camping World liar didn't offer any take-home evidence.
Not Falling for CW Fraud
Joe didn't fall for it and took his unit with him. He returned to the RV park and his skinny wife came home with a friend. She scampered up the ladder to inspect the roof. Not surprisingly, there was not a shred of truth to Camping World's lying claims.
Therefore, this was a fraud. (Read our inspection story for another example of fraud.) I attempted to get them to call and request a copy of the estimate and pictures. They didn't want to deal with it and let the Camping World of liars off the hook for this one, unfortunately.
To contact Camping World's corporate headquarters with complaints click here.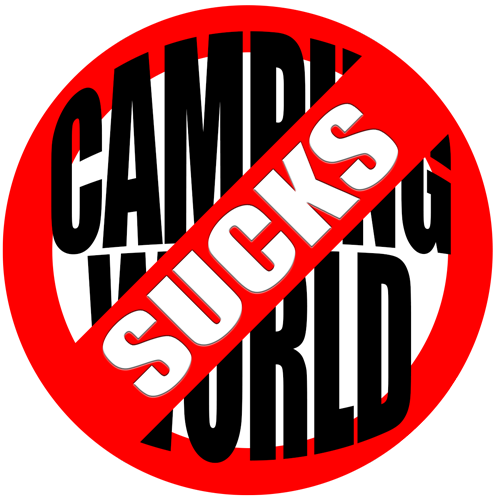 Please share your experience on Camping World sucks here. This website, CampingWorldSucks.net, is purely informational and does not advertise or profit from any shared experiences. Consequently, we only hope to warn consumers. Our hope is for Camping World and their liars to change their business practices or stop practicing business.
Keystone, Camping World's most prominent manufacturer, also sucks. Visit KeystoneRVsucks.net to share your Montana, Cougar, etc. nightmares. KeystoneRVsucks.net is not monetized, strictly for information.
Contact Keystone directly try emailing customer service at www.ownerrelations@keystonerv.com. Thor, Keystone's parent company can be reached at Thor custom support or by phone (877) 855-2867.
Good luck. Unfortunately, we all need it.