Our Camping World Service Experiences
We lost my Mom so Dad decided he wanted to buy an RV. We had no idea how this would lead us to Camping World Service Departments. My Dad wanted to get out of the house, a reminder of Mom. Well don't you know, he found…
A GREAT DEAL FROM CAMPING WORLD… NOT!!!!
First Camping World Experience
The unit he bought was in the shop within a week. Did not even get to camp in it and IT WAS IN THE SHOP. Camping World had it for months. We finally get it back and it is raining outside. Of course, it is leaking water to the point we have to get a mop.
If you drive an RV you know it isn't always fun driving on the Interstate. You know, the road where drivers were able to get a driver's license in a cereal box. Rolling along and all of a sudden we hear a horrible noise. We were ducking for cover.
THEN, THE BED ABOVE THE DRIVERS SEAT/PASSANGER SEAT COLLAPSES!!!!
We called Camping World. We could instantly tell in their voices THEY DIDN'T CARE. Back to Camping World Service. The unit had so many problems. It wasn't safe and now had water damage we couldn't see.
Camping World tells us we are driving a house with an earthquake under us. Exact words:
GET OVER IT AND THAT IS RV LIFE. —Camping World
Second Unit
Dad had enough. He wasn't getting anywhere with them so he took a $30,000 loss! Unfortunately, he decided to give another Camping World, two hours away, a try.
This time, he had the new unit for a month BEFORE IT WAS CAMPING IN THEIR SHOP! Months went by. Yes months, five months to be exact. They found that the generator would NOT work although it had never been used. Camping World told us it was our fault and was due to OUR lack of maintenance. Told us that we needed to use it at least two hours each month and by the way you owe us $750!!!
The generator, along with everything else, was NOT covered under the warranty. So why provide a warranty if nothing is covered?
Another Invoice
We finally got it back. The first trip we take which required a generator, we were dry camping. It fires up but provides no power. We had to travel two hours out of our way to the closest Camping World. We live in Florida but were in Texas when this happened.
That CW tells us bring it in and they believe it is the transfer switch. We had to wait three hours, SITTING ON A CURB, and it is finally ready. We were told that the technician that "fixed" the generator forgot to adjust some screw. So Dad being nice like he is hands the guy a $20 tip.
THE GUY HANDS DAD A BILL FOR $162!
Another item not covered under the warranty. We considered it their fault since they forgot to adjust the screw after we gave them $750! Or the other payment of $162!
We were afraid to think of what would be next. Driving away, as soon as we shut the door we hear this grinding noise. WTF is that? The automatic stairs were not retracting. That was the noise.
My Father is 72-years-old and now he had to use a step stool to get in and out. Must be something with Interstates and above cabin beds since we were familiar with the sound and ducked since we were prepared for what was coming. THE BED FELL DOWN ONCE AGAIN. HELLO, SECOND RV!
All Camping World Locations Suck
It's been a year now. The RV is the one that goes camping AT THE SHOP. We didn't know that Camping World considered their service center some type of campground. RVs are purchased to go camping in…we thought. The plan was to get away. The only thing getting away WAS THE RV.
Again, I just picked it up today after something they "fixed" had to be "fixed" again. The service counter have a sign that reads:
OUR WORK IS WARRANTED FOR LIFE. NOT TRUE!
They charged me again. Unfortunately, instead of arguing with them, I paid to get it back. Got to love when the invoice reads that the technician repaired the dinette that collapses.
Camping World Breeds Liars
The technician said it was fixed and safe. He actually seemed to have tested it himself according to the invoice. He said he jumped up and down on the seat without a problem. I responded that was NOT TRUE. I assured them that the technician would not be at work if he'd done that.
HE WOULD BE OUT ON WORKER'S COMP BELIEVE ME.
Getting the Word Out
Long story short, I promise I've left a lot out, CAMPING WORLD SUCKS IS PUTTING IT LIGHTLY. In fact, I made shirts to wear so when others read my shirt they will see CAMPING WORLD SCREWED ME.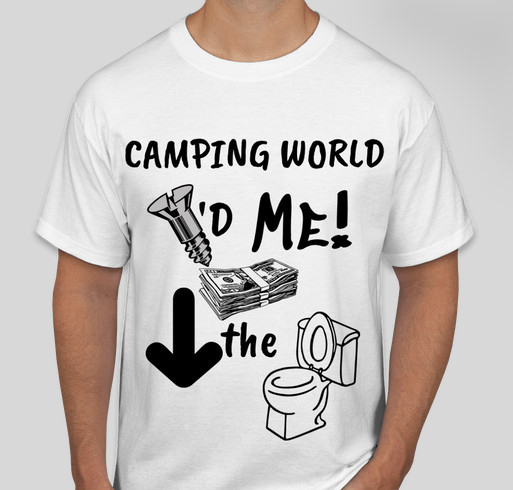 The t-shirt depicts money down the toilet. The back shows two people kissing. THE WORD "MY" AND A PICTURE OF A DONKEY finished with the words CAMPING WORLD!
CampingWorldSucks.net does not benefit from the sale of these t-shirts. CampingWorldSucks.net does not profit in any way.
— Guest Contributor
Camping World hides under the name Gander RV in an attempt to cover their disgusting reputation. Our interaction with Camping World at two locations: Monticello, Minnesota, and Bartow, Florida, gave us nightmares. If nothing else, don't buy the extended warranty! They will attempt to shove it down your throat. Do the math and buy your own warranty!
CampingWorldSucks.net welcomes contributors, click here. In addition, we recommend the Facebook group Camping World: The Awful Experience to share your experiences. Our goal is to warn consumers to avoid this company, by any name.
An option for complaints is Camping World corporate headquarters. Please report how that works out for you.
CampingWorldSucks.net is an informational website only. We do not allow advertising; no profit received.
KeystoneRVSucks.net
Similarly, check out KeystoneRVsucks.net. Camping World (aka Gander Mountain) is the largest retailer of Keystone RV. Just like Camping World, Keystone has built a reputation for terrible workmanship and equally awful customer service. You can read why we despise this company at keystonervsucks.net. To share experiences with Keystone RVs click to submit.
If your complaint involves a Keystone unit, e-mail customer service here. Please report your results. Positive experiences are unfortunately few and far between.
Keystone's parent company is Thor; customer support form and phone number, (877) 855-2867.