This post combines several Camping World reviews that contributors have submitted. Camping World Sucks has one goal, to warn the public. Keystone RV Sucks also welcomes guest contributors to share their experiences.
Camping World of Tallahassee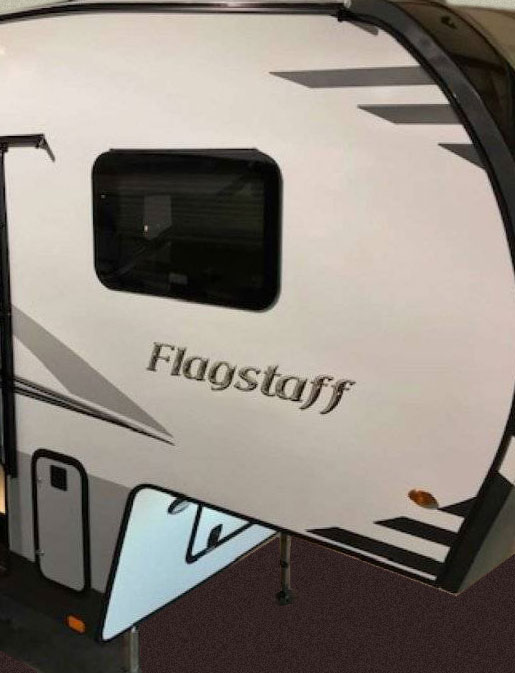 I purchased a brand new Flagstaff fifth wheel at Camping World of Tallahassee, Florida. It came with a defective hook up light on the front. No one told me not to use the light until it could be replaced. They didn't have one in stock and chose not to order one before I took delivery.
First, I turned it on and used it for a night light assuming it would work; until it just quit. Then, it caught fire! The fire burned a hole in the front cap before it could be put out. Thank God someone was walking past when it started burning. They banged on my door and we put the fire out.
I called the manager at Camping World in Tallassee. He wanted me to tell Forest River I was afraid to stay in the unit. He offered to send me a different, new fifth wheel.
I told him he could go to hell and phoned Forest River in Indiana and told them what he was up to. After that, I contacted Camping World Headquarters in Bowling Green, Kentucky. In addition, I registered a complaint against the manager in Florida. Of course, Camping World corporate did absolutely nothing.
Now you're beginning to understand why Camping World is trying to become Gander RV. They can eat s–t as far as I am concerned.
Rebranding: Hiding & Lying
In my opinion, Camping World (now trying to re-brand themselves as Gander RV) is nothing more than the traditional and unethical "used car" sales scam!
They deliberately buy substandard, low-quality RVs. Camping World lies about the safety and durability of the units and then push-off warranty repairs until the manufacturer's warranty expires. This practice places the burden of repair costs on the buyer!
Camping World Unethical? Yep!
An unsustainable business model? We can only hope. Remember, they are only interested in short-term profits. When consumers finally understand Marcus Lemonis' con, he will simply move on to another scam. He takes his profits, leaving customers and investors in the dust!
Camping World Columbia, SC
My purchase was a nightmare from the start and continues. The Camping World Staff at Columbia, South Carolina signed my name to two difficult documents. They failed to register our RV with the North Carolina DMV, as promised. More than 45 days after the purchase they sent the paperwork to us. This resulted in us driving the RV unregistered the whole time.
They provided false or misleading information concerning the cancellation of our extended warranty and paint coverage. In addition, they promised to fill the RV with fuel prior to purchase. We took possession with only $50 worth of fuel.
Only one key was provided with a brand new 2020 Thor Freedom Elite. Camping World claimed that the manufacturer only provided one key for the vehicle.
We contacted corporate. To date, we still have not heard back from corporate. None of our concerns, which are many, have been resolved.
CW Manassas, VA
My wife and I purchased a used Tiffin Allegro from the Manassas store a couple of months ago. We live in Maryland so I had to have it state inspected.
The inspection station failed the Motorhome for front brakes. Both Rotors were cracked completely through. All four were severely overheating to the point that they were disintegrating.
Camping World allowed me to drive that vehicle over 150 miles home with my family aboard. Not to mention the thousands of other motorists on the road with us.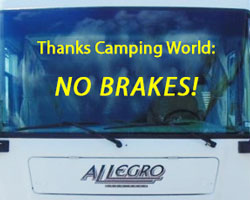 This vehicle has been the biggest mistake I've ever made. I can assure you that I or anyone I have the chance to talk to will never buy another RV from their stores!
–Guest Posters
The Worst RV Dealer
The goal here is to warn future customers and help current consumers trapped in a Camping World nightmare.
First, Camping World is now hiding under the name Gander RV. They are also purchasing private dealerships and not changing their names to hide behind aliases. To contact Camping World corporate, click here. Please share your results.
Visit the Camping World: The Awful Experience Facebook page for more reviews. These reviews are the result of Camping World's common business practices; Camping World's normal. Please contribute your experience by clicking here. CampingWorldSucks.net and KeystoneRVSucks.net are strictly informational. No advertising will be accepted. We can only hope Camping World, also known by aliases including Gander RV, will get a clue and step up to the plate.Check out KeystoneRVsucks.net to read and share experiences with Keystone brands. Keystone customer service's e-mail address is ownerrelations@keystonerv.com. Keystone's parent company is Thor. Some have reported more success by contacting Thor. For Thor customer support click here or try calling (877) 855-2867.