We found a TT that we love, Flagstaff E-Pro 19FBS. We looked at a couple of places but just couldn't come to terms. We decided to try our local Rv dealer, Gander RV, recently renamed from Camping World. It is our local dealer and does have a repair shop for warranty, we figured.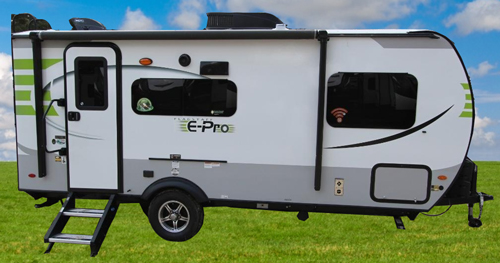 They had the trailer we wanted, minus four items (bike rack, backup camera, holding tank heating pads, and additional solar panel). We came to an agreement to buy the RV on their lot, with the four minor add ons.
Our agreement was "The RV you want, with everything you want on it, at your price, out the door in 48 hours." (We are now 20 days later).
The Scumbag Process
The salesman told us, repeatedly, he was late for an appointment. He rushed us through signing a sales contract without the four add ons listed. He assured us more than once "… don't worry about it, they'll be on there…"
We put money down on my Credit card, I had a loan preapproved from my bank. All good, right?
Since then. . .our salesman has been out sick and we are now dealing with the sales manager. That is, WHEN we can get anyone to talk to us. When calling got us no where but voice mail and no return calls, we drove over to Gander RV and spent two to three hours being delayed, diverted, disrespected and lied to.
Seems every person we talk to inadvertently tells the truth about the last person's lies and tells us new lies. Twenty days into this 48-hour deal, it seems, that they are set on not adding any of the agreed-upon add ons, but want us to "close this deal out". They have not charged our credit card for the deposit, yet. We have not taken possession of the camper. We have not given them the check for our balance.
Way Too Late, I read the reviews of Camping World, and see All their unethical sales practices in our situation.
Escaping Gander RV
My questions are: Can I cancel this transaction?
Is there any strategy for making them comply with our agreement?
Any help will be greatly appreciated! Yes, I now understand what a huge mistake this was, but we have to move forward from the position we are now in. Thanks again for any positive suggestions or solutions.
–Guest Poster
Camping World (Gander RV) Sucks
We offer this Camping World corporate headquarters contact information for complaints, click here. Good luck with that.
As you can see from this blog and from Camping World: The Awful Experience on Facebook, their reputation for poor workmanship and unethical business practices is public knowledge and the purpose of this blog.
Share your experiences with Camping World here. CampingWorldSucks.net is purely informational. This website will never accept advertisements and does not profit from any experiences shared here. Ergo, this is purely informational to warn consumers in hopes that Camping World, a.k.a. Gander RV, will alter their unethical business practices or just close its doors.
Keystone RV Equally Sucks
Keystone, Camping World's most popular manufacturer, also holds a reputation for poor workmanship and garbage customer service. KeystoneRVsucks.net is the perfect place to share Montana, Cougar, and other Keystone brand nightmares. KeystoneRVsucks.net is strictly informational.
Contact Keystone customer service at www.ownerrelations@keystonerv.com. Keystone's parent company is Thor Manufacturing. Reach Thor custom support here or call (877) 855-2867.