Our opinion is that Camping World sucks. Many seem to share that opinion. Reviewers rarely praise the company. Ergo, CampingWorldSucks.net was born.
This is not a fancy website. The goal here is not to sell products or ads. The purpose of this site is to warn consumers. Also, hopefully, the company will get a clue and change.
I've read many reviews and found very few positive experiences if any. RV enthusiasts new to the company need to be warned. Those with experience probably need to vent. This is a place to share the Camping World consumer experience.
After dealing with Camping World personally, we came to the conclusion that Camping World sucks. Our own experiences prompted this blog. Subsequently, our story fills the first few posts.
First is our sales experience in Monticello, Minnesota.
Second, our refund experience with Meridian, Idaho.
Third, our warranty inspection fiasco in Bartow, Florida.
I've also included one experience of a friend.
Location doesn't seem to matter. Integrity and honesty are obviously not the company standard.
The BBB
I've read consumer reports, including many Better Business Bureau (BBB) complaints. The BBB website gives them a one-star rating. What the BBB deems a response is a joke. For instance, Camping World repeatedly responds that they reached out to the customer (they tried) without response. That seems to be their scripted reply.
After this lame response, the BBB marks the complaint as answered. Furthermore, when the company takes any action, the BBB reports the complaint resolved.
Consequently, complaint after complaint is marked resolved. However, additional customer responses show the issues as unresolved.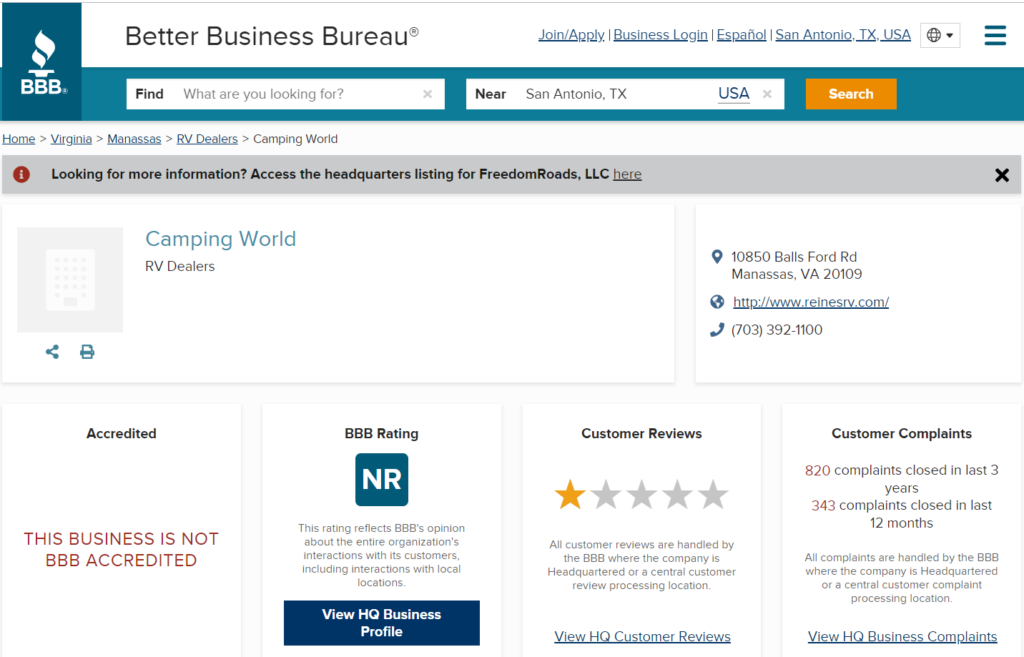 Additionally, the BBB fails to rate the company with a letter grade. Find out for yourself. Do your own research on the BBB website. In addition to the BBB, check out PissedConsumer.com. They give Camping World two stars.
An Attempt for Change
Certainly, this may be a useless effort in regards to real change in business practices. In the end, future RV consumers will be warned.
These posts are organized into two categories: "Sales" and "Repairs." We'll add a category if necessary. Share your Camping World experiences here.
Also, on another blog, I've posted our warranty repair experience with Keystone RV. Same issue, lack of integrity. It is our my opinion that Keystone and Camping World are in bed together. We experienced a team effort to rip us off.
Share your Camping World experience here.
Share your Keystone RV experience here.